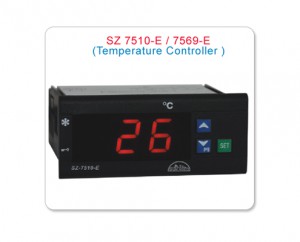 Main Features –
Cooling output..
Memory retention, time delay for compressor protection.
Auto operation incase of sensor error.
Input & Output –
Relay output :SZ-7510E – 8(3)A / SZ-7569E – 20A (Inductive).
Temp. Sensor Input : 1 NTC.
Application –

General appliances like deep freezers, display cabinet, pastry cabinet.

General Specifications –
Temperature range : -50°C to +50°C.
230VAC Standard. Other models with 12VDC, 24VDC, 110VAC on request.
Panel cutout : 29 X 71 mm Screw terminals : Admit 1X 2.5 mm² wire.
Spade terminals for compressors (For SZ-7569-E only).