Optyma™ Condensing Units R22 MBP
Compressor, condenser and receiver are fully piped and preassembled. It comes with receiver, stop valves, universal pressure switch (KP17WB) with selectable automatic or manual reset function on the high pressure side, flexible hoses and electrical box, and shut-off valve on suction, pressure and liquid line, flexible connection tubes for the pressure switch, long solder stubs on the shut-off valves, an extra-large connection box, and is prepared for permanent electrical installation.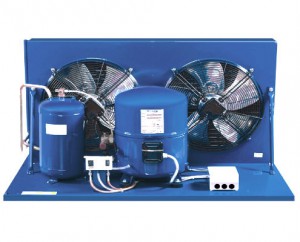 Models for medium cooling capacities feature single-fan design for very compact footprint.
Models for large cooling capacities have an additional second fan.